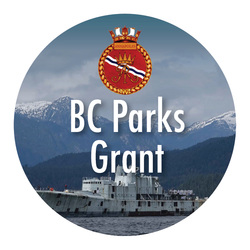 TIMELINE: 29 JULY 2016 The Artificial Reef Society has been awarded a BC Parks Enhancement Funding Grant.

​In November 2015 the ARSBC launched the Annapolis Biodiversity Index Study (Project ABIS). This study was intended to monitor and catalogue the progression of marine life accumulation on Annapolis. We asked divers who were visiting the Annapolis to document the life they were seeing. This information was then sent to Donna Gibbs, taxonomist at the Vancouver Aquarium, who has agreed to create an ongoing taxon of marine life that is accumulating on the ship over time. This information has resulted in recording the existence of about 60 species of flora and fauna on the ship.

We have been encouraged by the response to this study and by the results that have been recorded so far; however documenting efforts have been sporadic and inconsistent. Understandably it is difficult to expect divers who are on their own time to devote their limited time underwater to another cause.

What was needed was a dedicated team of qualified divers who can go to the ship and dive certain areas. In order to remedy this situation the ARSBC applied for a Parks Enhancement Funding grant in May 2016. We are now very pleased to announce that our application was accepted for funding.
​
With these funds we can now help to offset the cost of getting a dedicated core of citizen scientist divers out on the ship on a regular basis and document consistent and knowledgeable observations. This is an ongoing project and new information will be posted when available. Stay tuned to this website for developments.
---
---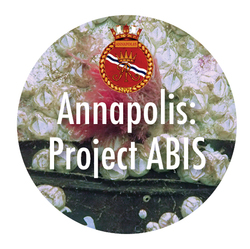 TIMELINE: SEPTEMBER 2016
In November 2015, the
Artificial Reef Society of BC announced Project ABIS – the Annapolis Biodiversity Index Study, an academic science study designed to observe and report marine species recruitment on the former HMCS Annapolis.

The ARSBC consulted with marine academics and advisors over the past few years on a plan to collect data on the biological changes that will take place on the Annapolis over time, and now a dedicated team of academics and citizen scientists is making it happen. The study's participants include the Vancouver Aquarium, Squamish Nations, the Marine Life Sanctuaries Society and BC Parks. The federal Department of Fisheries and Ocean (DFO) has also expressed interest in the project and is presently discussing its level of participation.
​
The Annapolis artificial reef was created in part to expand recreational diving opportunities which in turn would enhance economic benefits for local businesses. More importantly, by providing additional habitat structure for fish and invertebrate species, the Annapolis will make possible an increase in population of these marine animals. The Annapolis enhances the diversity and health of the marine environment we all share, replacing other habitat that has been degraded by human impact and potentially providing improved fish stocks area-wide.
We're very encouraged by the amount and diversity of marine life we've already seen on the Annapolis,
which has now reached nearly 70 species of marine flora and fauna
. We've seen a variety of invertebrate life including tubeworms, anemones, tunicates, hydroids and
several species of
shrimp. Schools of perch are common, rockfish have been sighted, as well as northern ronquils, culpins, pollock, and kelp greenlings. This is impressive, given that the ship has only been under water since April 2015. The diving community
has been a great help to
Project ABIS
by providing their photographs and videos taken on the Annapolis to Donna Gibbs at the Vancouver Aquarium (
donna.gibbs@vanaqua.org
). Donna has set up a taxon (catalogue of organisms).
We also hope that
the diving industry and
dive charters will continue to promote the program during their pre-dive briefings, and by displaying information on the Project in their dive shops and by sharing information by email.
The mechanics of marine life monitoring on such a large and complex structure can be complicated, but there are ways to simplify the process. One of the critical pieces of information is to landmark as precisely as possible where on the ship pictures and videos are taken. Physical structures on the ship are useful reference points, as is a record of depth and your diving position on the port or starboard side of the ship. The more specific you can be about which feature of the ship you're diving, the better. It's also helpful to make note of your distance from specific landmarks. To assist, l
abelled pictures of Annapolis can be found on the Bulletin Board of this website or on the ARSBC Facebook page (@ArtificialReefSocietyBC).
---
---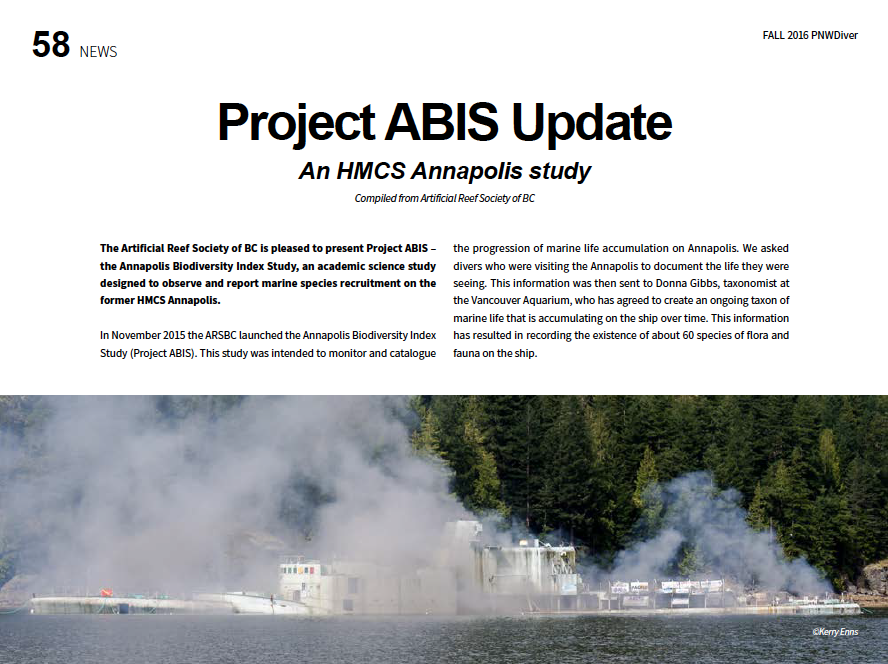 ---
The Shipwreck Mooring Renovation Program

The Mooring Renovation program has three objectives: one, to create a sustainable bank of funds to replace compromised systems on ARSBC reefs; two, to develop a unified system of equipment throughout the reef fleet; and three, to provide an adequate number of mooring floats for each wreck site. Diver tags will be sold through local dive shops and associations to help support the project.

​How much are the diver tags?
Artificial Reef Society tags will be available for sale each year, starting in November, for a cost of $20. The 2016 tag features our newest reef, the former HMCS Annapolis. The tag is made of heavy-duty plastic and can be clipped on with a zap strap.

Is the purchase mandatory?
Annual donations to support the wreck renovation project are entirely voluntary. Participating charter operators and retail stores will be seeking your annual support to help us improve the condition of our wreck dive sites. The annual tag is valid for all of the ARSBC reefs for the calendar year.

How will my donation help?
The Artificial Reef Society and the Dive Industry Association of British Columbia are working together to raise funds to renovate the mooring systems on BC's artificial reefs. Our work includes installing a Transport Canada approved solid core mooring float, poly steel lines and related diver down equipment. The floats will be marked bow, mid ship, and stern to help divers orient their positions. As funds accrue in the future, non-ARSBC wrecks may also benefit in a similar way from donated funds.

How will the funds be used?
Proceeds to the Shipwreck Mooring Renovation Fund are for the acquisition of materials, equipment, dive services as required, shipping costs, installation, promotions, and program administration costs. As a special feature, each new line installed on our reefs will include a PVC line scraper so divers can clean them of marine debris, which keeps the lines in better condition.

Why do the mooring systems require renovation?
Mooring floats suffer damage from marine wear and tear, weather, vandalism, and occasionally theft. When diver travel lines become weathered or covered with excess marine growth, their connection points can fail. The Mooring Fund will help address these issues.

Why are funds needed every year?
To be effective, maintenance needs to be routine and ongoing. Donations are needed to periodically replace or upgrade the fleet's hardware and floats, to add features like safety stop stations, and to fund future projects.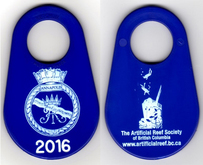 Are the tags different each year?
Each November a new collectable tag – depicting a different ARSBC artificial reef – will be created. The tags will feature a different colour from year to year, and the graphics will include the ship crest and year on one side and the ARSBC logo on the other.
Will information be provided on how the program is doing?
ARSBC will publish notices on our website about current renovation projects and upgrades on our reefs.
---