---
Underwater Grafitti: A Matter of Life and Death
We all seem to have a need to make our mark as we travel through life and let others know that 'we were there'. Unfortunately this sometimes leads to unintentional – and sometimes intentional – damage to the environment.

We have noticed that divers are leaving their mark on the Annapolis to let the world know they were there. These large scribbles and doodles are unsightly and pose a serious problem. Divers who do this are unknowingly destroying a very valuable part of the ship's future.

When scraping away that fine coating of growth that covers the ship in order to leave a message, divers do not just wipe away 'dirt', they wipe away the diatom mat which is the foundation of all life on the ship. That thin layer is made up of algaes, larval animals and colonies of microscopic plant and animal life that are a crucial part of the intricate web of life on the ship. These are the building blocks of future colonization and also an important food source for animals such as chitons, limpets and snails and other grazers. Without the diatom mat, there would be no life on the ship.

Please be aware of the damage caused by putting any mark on the ship, and leave the diatom mat intact: with your help and restraint, there will be more marine life to come. Help to preserve and promote the future of life on the Annapolis.

Thank you,
Doug Pemberton
Vice President ARSBC
---
To our friends, volunteers and supporters,
CONGRATULATIONS! We did it! And when I say 'we' it is meant in a very large, all encompassing sense. Over 1000 volunteers from the diving community and beyond deserve a large part of the credit for this success. As I watched the Annapolis slip beneath the surface to take up her new life as an artificial reef, I couldn't help think that those countless hours we all spent on cold, wet days, scrunched up in tight compartments, covered in dirt and grime; all the tired and sore muscles, scrapes and bruises; they were all worth it. I'm sure we all felt a great sense of accomplishment and relief as the ship went down. Volunteers, sponsors and supporters can all be very proud of their efforts and the final successful conclusion of a job well done.
Although the day started out wet and grey it must be remembered that we've never had a sink in the rain! And once again the powers that be smiled on us, and within a half hour to sink time the clouds cleared. Under a sunny sky the Annapolis went down, in just over two minutes, before a crowd of 200 boats. She went down quickly and evenly in what can only be described as a textbook perfect sink.
The Annapolis lies on the bottom perfectly upright. Bottom depths at low tide range from 105 ft at the bow to 98 ft at the stern. At low tide the depth to the top of the stacks is 35 ft, to the top of the bow is 60 ft, the flight depth is at 68 ft and the stern depth is at 77 ft.
Clearance divers have been down on the ship over the past few days and have confirmed that all the charges went off as planned. All the banners have now been removed and all passageways and rooms have been cleared.
The Annapolis is now open for visitors! Please dive safely.
– Howie Robins

---



Dive the Annapolis with
Dirk De keersmaecker.
Click on the image....

---

---

---



​Calling all Navy types! Visit Rick Bungay's Facebook page to purchase Annapolis Challenge Coins

---

In PNWD Fall 2016:

Click here

to see Pacific North West Diver's 2-page update on Project ABIS

---

---

3d Scans of Annapolis
Colin Davidson of LNG Studios has kindly provided us with a whole new way to see HMCS Annapolis!
To navigate through the 3d files – which may take a few moments to upload – simply use your keyboard arrow keys. Happy exploring!
---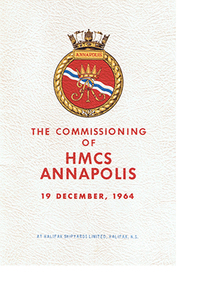 HISTORY OF HMCS ANNAPOLIS
Annapolis was the last of the West Coast steam powered, helicopter carrying destroyer escorts (DDH). Annapolis and her sister ship, HMCS Nipigon, were variants of the Mackenzie class specifically designed to carry a Sea King helicopter, and they are the only two of their class. They each had the same machinery plant which featured twin shafts, geared steam turbines driving fixed pitch propellers, and were capable of speeds of about 28 knots.

Her chief weapon, the Sea King helicopter, was used primarily for searching out and engaging submarines. When commissioned in December 1964, Annapolis was considered the most modern of Canada's naval ships. Built in Halifax, she served on the East Coast until August 1989, at which time she was transferred to the West Coast. She was put into extended readiness in December 1996 and finally turned over to Crown Assets for disposal in 1998. After a failed attempt in 1999 to save the ship as a floating museum, the Artificial Reef Society of British Columbia (ARSBC) was the successful bidder for the ship, taking possession of Annapolis on the first of April, 2008.

Her final voyage began in June, 2008, when the ARSBC towed Annapolis to Vancouver to undergo reclamation and environmental clean up. "Annapolis will ultimately serve as a new reef habitat for rock fish and other aquatic animals in the Howe Sound region," said Howie Robins, ARSBC's president.
---
---
OUR SINCERE THANKS
The ARSBC wishes to thank the following for their support of the
Annapolis
project in Halkett Bay: BC Parks, Environment Canada, Transport Canada, and Department of Fisheries and Oceans. The ARSBC deeply appreciates the support of the Squamish Nation and the Tsleil-Waututh Nation for their endorsement of Project Annapolis, and the consultancy work done by Mel Turner on Halkett Bay. Click on the text below to read some letters of support:
November 2015: BC Parks
Aug 2014: Tsleil-Waututh Nation
June 2008: Squamish Nation
---
Our thanks to the following companies, organizations and dive shops for their support, services, and/or donations:
Seaspan • Mountain Demolition Contracting • Sea Dragon • Pacific Blasting & Demolition • Blake Cassels & Graydon LLP • Aqua Lung Canada • Accurate Energetic Systems, LLC • Anchor Signs Ltd • Aqua Can Flotation Ltd • Brenco • Vancouver Aquarium • Coast Eagle Consulting Inc • Cool Dives • Crosby Marine Services • DAMet Services • Dive & Sea Sports • Diver Magazine • Donaldson Ropes Ltd • Hollis • International Diving Centre • Langley Diving • LNG Studios • Newalta • New World Diving • Ocean Pro Divers • Ocean Quest Dive Centre • PNW Diver magazine • Pacific Lighthouse Consulting • PADI • Rowand's Reef • The Rupture Seal • Seasoft • Sewell's Marina • The Edge Diving Centre • United Lock-Block • Seasoft Scuba • Vancouver Maritime Museum • Owen Bird Law Corporation • Wesco • ScubaPro • EEC Industries Ltd • Dyno Nobel • Dive News Network Media Group • Oceanic • DiveNav • Artificial Reefs International